NetStores E-Commerce Extensions
Sign-Up
Step 1 (top)
NetStores allows you to get into E-Commerce quickly and easily. We provide everything you need to setup a Web store, you don't even need to have a Web site or experience with Web development.
Before you can use NetStores E-Commerce Extensions, you must sign-up. When you sign-up, there is no obligation to pay any money yet; you can "check things out" first if you wish. If you do wish to setup a store, check out our products and prices and contact NetStores.
To sign-up with NetStores, from within Dreamweaver, select the Commands > NetStores E-Commerce > Sign Up menu entry.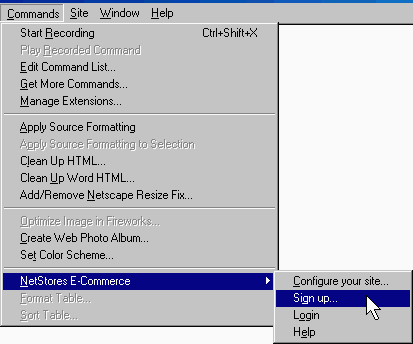 You will be taken to the NetStores Web page where you start the sign-up process, called NetStores' Terms of Service. If you want to sign-up for a new store, read through the terms of service and if you agree to them, click I agree. Then fill out the Set-Up-Your-Account form.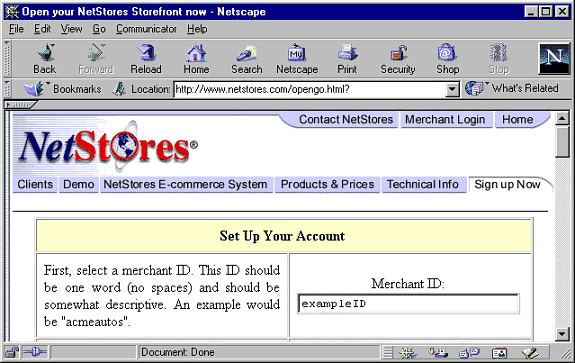 Remember your Merchant ID and password exactly as you typed it.
You can also Sign-up directly through NetStores.

Continue to Step 2 - enter merchant ID and password (top)
Next you will need to enter your merchant ID and password in the NetStores-Store-Properties dialog box. Go to setup and perform step 2.