NetStores E-Commerce Extensions
Item File
Overview
The item file makes your job easier. It is a text file you create that contains a list of products and services sold at your Web store. This list contains information about each item, including URLs for images of your items and Web pages on which they are presented. Two copies of the item file are needed, a local one and one on the NetStores server. This page covers how to download, edit and upload the item file. Before you learn about the parts of the item file, you should download a sample provided for you when you open a store.

The item file is easy to use for a small or large number of items, moreover it provides the greatest advantage for Web stores with numerous products. Manually entering information on your Web pages for many products is tedious and inefficient. NetStores provides a simple way to alleviate this problem, allowing you to displaying and incorporate large numbers of items by simply updating the item file. Most stores have a list of items being sold that includes a code number or name, description, price, and other information about the item. If you already have a list in a spreadsheet, it can easily be modified for use as the NetStores item file.
After following Steps 3 - 5 you should have an item file at NetStores and a matching one in the directory with your other Web-site files. Make sure to keep your local item file synchronized with the one on the NetStores server.

Step 3: Downloading the Item File (top)
Within Dreamweaver, if your NetStores-Store-Properties dialog box (see picture) is already open: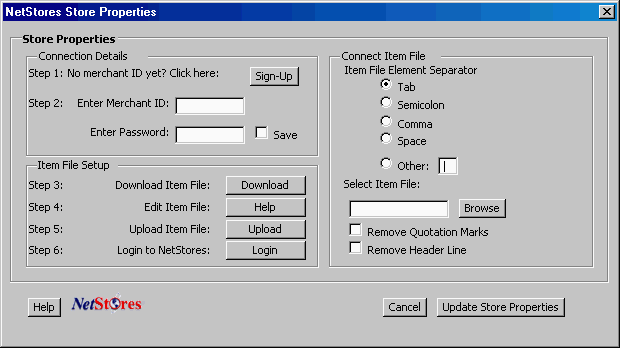 Enter your Merchant ID
Enter your password
Then click download.
(If your NetStores-Store-Properties dialog box is not open, you can open it by choosing Commands > NetStores E-Commerce > Configure your site from the menu bar.)

Clicking Download takes you to the NetStores Web page where you can download the item file (see picture below).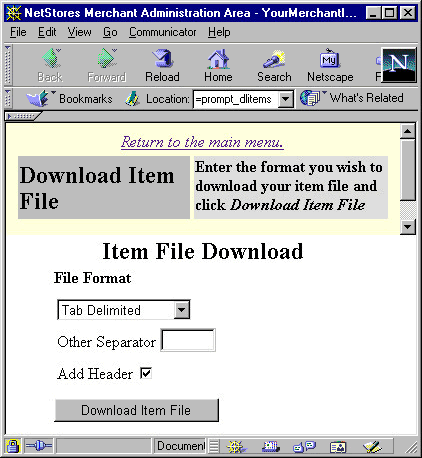 Tab Delimited and the Add Header check box should both already be selected.
Click Download Item File
Save the file as itemfile.txt in the same folder where you edit your Web store in Dreamweaver.

Step 4: Editing the Item File (top)
Open the item file (itemfile.txt) in a spreadsheet program.
Initially the file has two demo items and columns set up as shown here: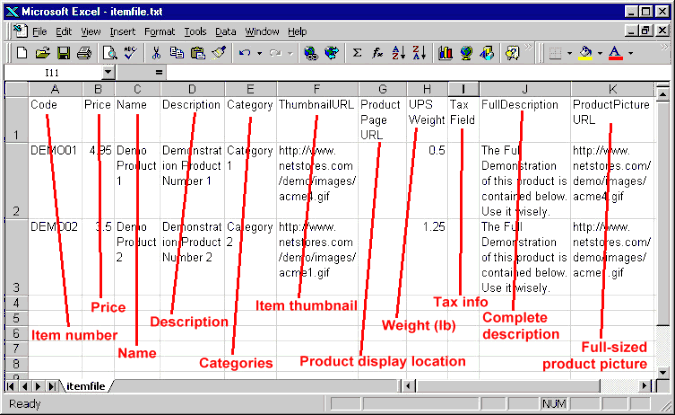 Click image to enlarge
Edit the file so that it contains your products or services, keeping the same column arrangement (see picture above).
Save the file in tab-delimited text format as itemfile.txt.
Then upload the file as directed next.
NetStores allows you to customize the order and content of the columns of the item file in its more advanced sections.

Step 5: Uploading the Item File (top)
After editing your item file, you need to upload it to NetStores. If necessary, open the NetStores-Store-Properties dialog box again in Dreamweaver (choose Commands > NetStores E-Commerce > Configure your site enter your Merchant ID and password).
This process takes you to NetStores where you can upload the item file.
Scroll down to the bottom of the page (see picture below).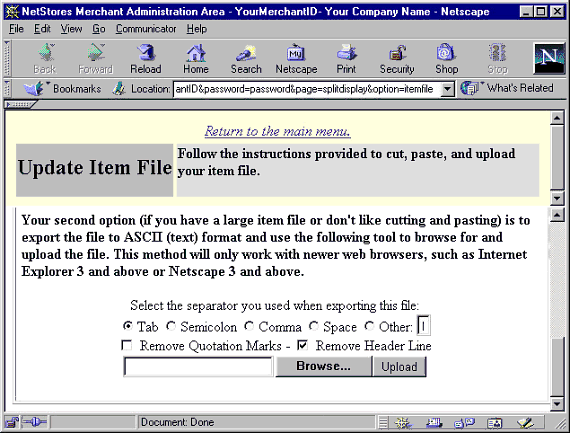 Check the Remove Header Line check box.
Click Browse...
Select Files of type: text (*.txt) as illustrated below.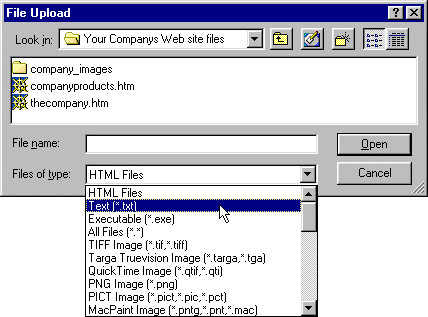 Select the item file (itemfile.txt) and click Open.
Click Upload (see picture).

Continue to Step 6 - login and configure your store (top)
Configuring your store gives NetStores useful information such as your company logo and where to find your Web pages and images in your item file. Once you have setup (Steps 1 and 2) your account at NetStores and worked with your item file (Steps 3, 4, 5) you need to configure your store at NetStores (Step 6).